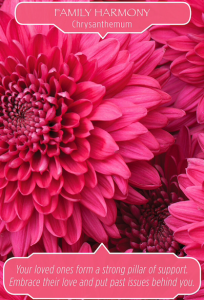 Family Harmony / Chrysanthemum / "Your loved ones form a strong pillar of support. Embrace their love and put past issues behind you."
I pulled a card from Flower Therapy deck*. Whenever I pull a card for the blog I set the intention that everyone will get something from the reading.
For me, it struck me, almost instantly that our family is who we grow up with and our family is who we invite into our lives. Our family is also our past generations as they are always with us.
A blog I did quite a while ago, Bring the Past Forward, talks about that. There's a very powerful visualization in the blog you will enjoy!
Our family members are brought into our lives to help us with things we chose to learn in this lifetime. We don't always know what these lessons are until looking in hindsight. Though it does make it easier to know 'hey, I came here to learn something, so let's pay attention and learn.'
I know there are things in my family (of other mothers) that I know I really want to get this / I really want to learn this lesson – now!!! These are things I also feel I have a really thick skull on at times and the lessons aren't quite sinking in.
What do you do with things like that? As the card says, 'embrace their love' and I think included in that is embracing your love for yourself. Look at the wounded one inside and see where you may need some extra love. And then do that for yourself.
Even as I write this, I know a friend's Dad is showing up to let me know he watches over me and checks in on me from time to time. Thank you Russell!!
Family is blood, family is others from another mother and family is our Loved Ones who have passed. What can you do to bring harmony and love to yourself and to your family?
Print the picture for today's blog and have it near you. Each time you see it, send love to your family and know there is harmony.
Angel Blessings to you,
Sue
Empowerment 4 You LLC
*Flower Therapy deck created by Robert Reeves & Doreen Virtue