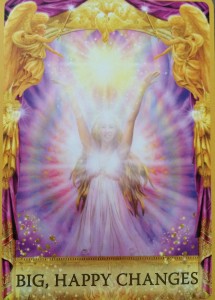 I thought I would pull a card for today's blog. What a perfect card for the last few days of 2014 ~ Big, Happy Changes*.
I'm sure we have all experienced changes that weren't exactly what we wanted or were expecting. That's OK, as things always have a way of working out.
This card is telling us we have some fun and exciting changes coming. Be open to what guidance you may be receiving and follow any signs that appear along your path.
Realize too that even though changes are 'happy', they may still be stressful, so remember to breathe along the way as well.
Pay attention over the next few days at all the changes coming into your life. If it's not what you were looking for, still be grateful and let it go.
Enjoy the last of 2014 and know that happy changes are coming your way!
Angel Blessings to you,
Sue
Empowerment 4 You LLC
*Angel Answers, created by Doreen Virtue & Radleigh Valentine