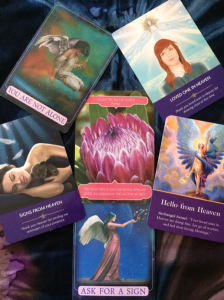 Our Loved Ones want us to know they are with us, watching over us, loving us, are still involved with our day to day lives. The are sending us signs anyway they can.
What has been happening more and more is in the Angel Card readings I am doing, 'your' Loved Ones are coming through. And I believe my mom is there to facilitate and help that process.
It really is so beautiful (and fun!) to watch. I say 'to watch' because many times it's the look of amazement, love, wonderment, confirmation and gratitude that comes over 'your' face when it's very clear your Loved One is coming through. There generally is no mistaking who is coming through – 'you' almost always know the instant you see the card.
I bring this up because the message is becoming more and more clear to me and much louder.
Your Loved Ones are still here and want you to know that.
They are still a part of our lives. It doesn't matter how long ago they left. It doesn't matter how they left. It doesn't matter if they were in your lives at that time or not. They are still with you and want you to know it.
Ask for a sign from your Loved One and watch what happens…
Angel Blessings to you,
Sue
Empowerment 4 You LLC
If you want to read Signs From Your Loved Ones, it's available in paperback or the Kindle version. I wrote this book because my Loved Ones wanted me to share about so many possible signs that others may not be aware of.
About the oracle cards pictured:
Center – Signs From Heaven / Protea – Your loved ones in spirit are waving hello and giving you reassurance that you'll be all right. (Flower Therapy Oracle Cards created by Robert Reeves & Doreen Virtue)

Upper left – You Are Not Alone (Indigo Angel Oracle Cards created by Charles Virtue & Doreen Virtue)

Upper right – Loved One in Heaven – Thank you loved ones in Heaven for drawing close at this time. (Angel Prayers Oracle Cards created by Kyle Gray)

Middle left – Signs From Heaven – Thank you Heaven for sending me reminders of your presence. (Angel Prayers Oracle Cards created by Kyle Gray)

Middle right – Hello from Heaven – Archangel Azrael: "Your loved ones in Heaven are doing fine. Let go of worries, and feel their loving blessings." (Archangel Oracle Cards created by Doreen Virtue.

Bottom – Ask For A Sign (Indigo Angel Oracle Cards created by Charles Virtue & Doreen Virtue)
Earlier related blogs:
– Message From the Angels 70215