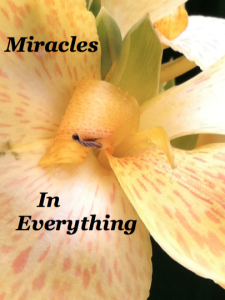 There are only two ways to live your life. One is as though nothing is a miracle. The other is as though everything is a miracle.

~ Albert Einstein
I'm sitting outside wondering what today's blog will be about. I had an idea it would be about miracles but wasn't 100% sure. The longer I sat with my face to the sun, swinging ever so slightly on the swing, I knew it had to be on miracles. I felt like I was in one just soaking up the energy of being outside.
We have busy lives rushing from this thing to the next. Taking a few minutes to just stop and notice what is going on around you.
It's springtime here and the blooms are out on some trees, leaves fully out on others. Lilac bushes behind me at the neighbors are about half full of flowers. I can't wait until I can get a good whiff of the lilacs – <sigh>.
The wind is blowing, the chimes are chiming and there is new growth – miracles – all around.
Open your eyes and look at things with the wonderment of a child. They notice miracles in everything. The newness wears off the older we get. Bring out your child and see how much brighter the world is.
I challenge you to start to notice the miracles in everything.
Angel Blessings to you.
Sue
Empowerment 4 You LLC
Related blogs: