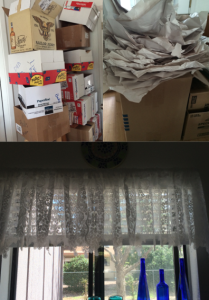 I have done a lot of unpacking (the stack is 15 boxes I unpacked in the morning) with still more to do and that's OK. I feel like I'm getting settled in pretty quick. This house feels like home and in some ways it feels like I've lived here for quite awhile.
Looking around the room it looks like I live here. I haven't felt like that for quite awhile.
Yes, I've been living in boxes for quite some time and it felt like the amount of space I felt comfortable in was getting smaller and smaller until it was the comfort of my bedroom (luckily it was a huge bedroom) and the front porch with Max on my lap.
Some of you have asked about Max. He is in charge of a few acres and he has work to do. He and I have quite a bond and I will miss our morning tea – well, I was drinking my first cup of tea and he was eating or cleaning or lounging. He was who I would have my first morning conversations with for over a year. Most of his responses were just 'meow'.
He is in charge of the 4-5 acres of the house I lived in and of the neighbors. He is getting accustomed to walking the short distance to J&J's to get his breakfast and supper. He's met with open arms though he's not ready to jump on another lap quite yet. I believe he will be some day soon.
I have learned many lessons over the last year, some with Max, some with others. I'm sure they will come out in my writing over the next weeks and months. As the saying goes, it's all good.
For now, I'm happy and joyful feeling the serenity and peace of my new home. I feel I am surrounded with much love. And I know I left the house, the land and Max with my gratitude and love and of course, many Angels.
Angel Blessings to you.
Sue
Empowerment 4 You LLC
**top left picture is all the boxes I unpacked, top right is the huge box of paper I've unwrapped and the bottom half is how nice my kitchen window looks 🙂