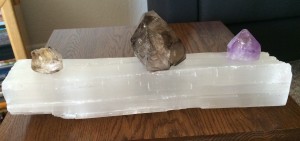 I feel so much gratitude today. The Spirit in Motion Expo* was Saturday, April 11, 2015 in Prescott. What a wonderful turn out we had.
The support from the community, the vendors, healers, readers was so wonderful. We had so many talented individuals sharing their gifts. We had many awesome people listening to and enjoying the information they were receiving at the Expo. And there was lots of shiny, beautiful things as well.
The speakers we had were phenomenal and each one drew quite a crowd.
The planning for the Spirit in Motion Expo with Maggie and Liz has been wonderful all the way through. We ebbed and flowed very well together. And Saturday to see it come to fruition was marvelous. I was floating all day – I don't think my feet touched the ground once.
Sunday I was returning some wonderful crystals I had borrowed from Mountain Spirit Co-op and again felt the support and the love of the community and friends. Dana gifted me one of the crystals I had borrowed for the Expo. Thank you wonderful Dana. The selenite will be with me at future Spirit in Motion Expos and events.
It feels as if the gratitude is overflowing, more than I can put into words. Thank you all, for being there to support the Expo, the vendors, Maggie, Liz and I, but most importantly, to support your inner being.
Angel Blessings to you,
Sue
Empowerment 4 You LLC
*If you are interested in being a vendor in future Spirit in Motion Expo, sign up on the website for future information.