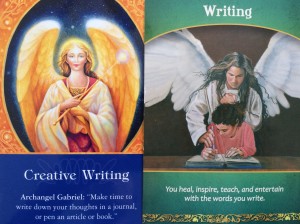 Today's blog is inspired by Archangel Gabriel. I was flipping through The Miracles of Archangel Gabriel book* and landed on the heading Writing Careers.
It was actually quite funny because yesterday I received an email from someone in reply to one of my blogs. She pointed out, in a not very nice way, that I had made an error. I do appreciate it when someone tells me I have a typo or have a mistake of some kind but I don't appreciate being told "I'm sloppy and less than literate." That just wasn't nice.
When I first read it, I was a little upset. I realized that being upset was mine to own and she has every right to say how she feels. I let it go, with the assistance of the Angels and Divine Spirit. I feel another part of her message to me is to pay attention to how I deliver messages to others – maybe I need to soften them a bit.
Why I think this is funny (thank you for the humor Archangel Gabriel!) is because how many of us allow others to influence us into feeling:
you are doing it wrong

you are not good enough

you don't have the talent

you don't know what you're talking about

you will never become…
I started thinking about the other comments she made (yes, there were more) and I realized she just needs some love from the Angels. What she is saying about me is none of my business. I appreciated that someone told me of the error, which I fixed as soon as I finished reading her message. We all make mistakes.
We have come here to learn and I appreciated all of her comments. I may not always be perfect in how I write, but I believe the Angels are always with me sharing a message. I hope she got the message beyond the mistake she saw. The message was the important piece.
Ask the Angels to assist you in all you do.
There is no right or wrong!
You are good enough!
You do have talent!
You have something to say!
You will become…!
Angel Blessings to you,
Sue
Empowerment 4 You LLC
*Doreen Virtue is the author of The Miracles of Archangel Gabriel book* & both decks of cards used for the picture – Archangel Oracle deck and Life Purpose deck.