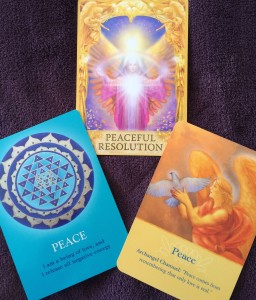 The inspiration for today's blog was truly Spirit driven. I sat down to see what the blog was to be about. Upon closing my eyes I could hear the bass of the neighbors music. I couldn't hear the actual music, just the boom, boom, boom of the bass.
I'm focusing on my breath and actually on the bass, as it's rhythm is like a heartbeat. And in my mind I could see the shape of a heart, beating with the bass.
Just a few minutes before I was also hearing the continual bark of the dog out back (1 of 4 between 2 homes). He wasn't barking anymore, though he had been for a while, at least since I had opened the back window.
Peace comes from within, not from what is going on around you. Was the barking annoying – hmm, yes. Was the bass annoying – hmm, absolutely.
As I'm sitting there, I look at the situation, from what can I do about it, what do I have control over — only me and how I'm reacting.
Breathing a bit more with the beat of the bass I started thinking about what I enjoy about the neighborhood and living in this house:
I love the sun beating on my face (right now), warming me and the house

The neighborhood is safe – it feels safe and the dogs will sound the alarm if need be

The neighbors with the music care about their vehicles, about keeping them clean (that's when I've noticed the music, when they're washing their cars)

This house feels like home to me
I realized with the beating of the bass, the neighborhood has it's own beating heart, and it feels much more peaceful than it did 5 short minutes ago.
Peace is within you. Accept where you are and find peace, no matter what may be going on around you.
Angel Blessings to you,
Sue
Empowerment 4 You LLC
Cards pictured are from 3 different oracle card decks:
–Peace-The Soul's Journey by James Van Praagh
–Peace/Archangel Chamuel-Archangel Oracle by Doreen Virtue
–Peaceful Resolution-Angel Answers both by Doreen Virtue & Radleigh Valentine
Check out what Services Sue has available.
SaveSave