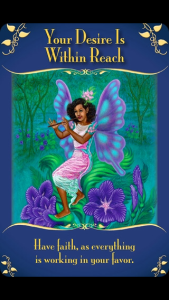 I had such a wonderful day on Saturday doing Angel Card readings and doing a talk on Healing with the Angels. Thank you for all who were there with me in person and in spirit at the Hassayampa Inn for the Festival of the Heart event. I appreciate it.
What I realize more and more is there are so many people who would like to know more about Angels in general, more about their Angels and know how to work with their Angels.
So today I thought I'd see what the Fairies have to say. They are known as the nature Angels. This deck is the Magical Messages from the Fairies* and truly is magical. Many times I refer to it as the SSSSSSSmokin' Hot Fairy cards because of how sssssssmokin' accurate they are. 🙂
Today's message is something we all need to be reminded of now and again – Have faith that everything is working out in your favor.
It truly doesn't matter what is going on in your life, with faith, it always is that much brighter.
This picture is truly magical also. She's playing what looks like a flute, there is abundance and serenity all around her and she appears to be very joyful.
How can we bring our desires that much closer to our reach? Whatever is going on in your life:
remember Your Desire Is Within Reach
look at everything around you from a place of joy and gratitude
have faith that things are going well and will only get better
be grateful for the abundant universe we live in
play music or be creative in some way and enjoy the moment
get out in nature and take in the beauty, the lushness of it all
The Fairies are the nature Angels and they are wonderful at manifesting. Call upon the Fairies and the Angels to move you towards your desire, and know it is within reach. And when guidance shows up at your door, take that action step towards it.
Angel Blessings to you.
Sue
Empowerment 4 You LLC
*Created by Doreen Virtue